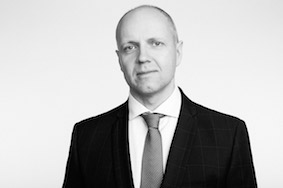 Mr. Raimond Made is an international business consultant, who has been advising and managing numerous sustainability-related projects in Central and Eastern Europe, Asia, Africa and the Gulf Countries.
His career in the sustainability management started in the year 2004, when he became EU Integration Manager of Coca-Cola Hellenic in the Baltic States and later Manager of the Public Affairs and Communication Department of Coca-Cola Hellenic/The Coca-Cola Company in the Baltic States.
Mr. Made has been in the lead to establish the Estonian beverage packaging deposit management organization Eesti Pandipakend Ltd (EPP).  He served as the Member of the Supervisory Board of EPP, representing the Estonian Soft Drink Association (owner of 25% of the company), and later also as the Chairman of the Supervisory Board (2007-2008). Since the establishment, EPP has continuously met and exceeded collection and recycling targets set by the law. EPP is considered to be a best practice for an efficient deposit system organization, considering the overall set-up, operational costs and achieved recycling targets.
From 2008-2014 Mr. Made served as a Member of the Board of Directors in the Lithuanian government licensed and packer/filler owned packaging recovery organization Zaliasis Taskas (ZT), and the last two years in that period as the Chairman of the Supervisory Board of ZT. In his role in ZT, he participated in EPR/Waste/WEEE legislation development in Lithuania. His focus and achievement were the legal revisions that mandated EPR organizations to finance the separate waste collection in the municipalities, which was groundbreaking change to increase the post-consumer waste collection and recycling in Lithuania.
In parallel, Mr. Made established CEEREC Ltd to manage sustainability-related projects in Central and Eastern Europe region. He actively participates in the international conferences as a speaker and expert in various working groups. He is a registered EBRD Senior Consultant.